Be Prepared To Get Dirty!
Revolution Off Road Terms & Conditions
By the very nature of this type of outdoor recreational activity it can be considered as dangerous in nature and certain elements of the Terms and Conditions detailed are written.
Revolution The Off-Road Experience (hereinafter known as ROR) requires the completion of the online waiver release forms electronically signed prior to arrival. On arrival each guest will present photo identity showing age and the credit card used for payment it must be presented by the owner. Voucher used to pay for reservations should be available in digital format.
The waiver release form indicates indemnification of ROR against personal injury or death whether accidental or not and to hold harmless and of its employees, or agents. Failure to sign the waiver release form will automatically disqualify any person from participating activities operated by ROR.
The presentation of false information is a federal offense and ROR will inform the appropriate authorities if they suspect documentation may be false.
ROR accepts no liability for the loss or damage to personal possessions any item brought on to the property is at your own risk.
You are requested to arrive 15 minutes ahead of your scheduled booking. Guests arriving more than 15 minutes late are considered as no shows no refunds are payable.
Gift certificates are nontransferable and must be redeemed before the expiry date. No refunds for expired or unused certificates is payable.
ROR reserves the right to cancel or prevent your participation at any time if we consider you are unfit to take part for reasons of health or safety issues.
Guests under the influence or deemed to be under the influence of alcohol or drugs or are considered to be unfit to drive or likely to be a danger to any other person will be asked to leave the property immediately without refund.
The form indicates indemnification of ROR for against personal injury or death whether accidental or not. The loss of personal possessions. Failure to sign the waiver release form will automatically disqualify any person from participating in any activity on the property.  Failure to complete the form correctly with the required information may result in cancellation of the experience without cause for refund.
You will be expected to comply with the directions and instructions given to you by members of the ROR team we reserve the right to halt or end any experience at any time if your behavior is abusive, unsafe, dangerous, and unreasonable or if behaving in such a manner as to cause injury to another guest or team member on the property. Under such circumstances there is no right to redress or refund.
Safety equipment including items of PPE will be provided and should be worn, always, especially when driving or riding in or on any vehicle or as directed by a member of the ROR team. Observance of all signs and notices regarding health and safety issues should be adhered to.
Damages whether caused by accident or negligence to vehicles or property must be paid for prior to departure. Incident report forms are required for every incident and must be completed and signed prior to departure.
Spectators on the property must complete and sign a waiver release form and are only permitted in the designated areas. They may also be asked to leave the property if they are acting in an unseemly manner.
Animals on the property are part of the Revolution conservation wildlife alliance and may not be interfered with provoked or harmed in any way. ROR does not accept any liability for personal safety or injury sustained by any means, animal, reptile, insect or any other flora or fauna.
Only service animals are welcome and then only under personal supervision with the appropriate restraining leash in place.
Children must be kept under supervision at all times whether riding on a vehicle or not, ROR reserves the right to ask parents to remove the child from the property if they are behaving in an unruly or unsafe manner without any redress to compensation.
Visit Us
About Revolution Adventures
We are a unique off-road adventure park within easy reach of the major hotels and theme parks. Our aim is to offer the best value for money in real time entertainment. Our mission is to provide the best quality guest service which results in a unique experience that leaves each guest exhilarated and with memories to share.
"We have SO much more to offer than just off-road experiences, so we decided to change our name from Revolution Off Road to Revolution Adventures, to better reflect that we have oodles of adventures on offer."
Contact Info:
Phone: (352) 400-1322
Email: Reservations@revolutionoffroad.com
Address:
4000 State Road 33
Clermont, Florida 34714
Hours By Reservation
Mon – Fri: 8:30AM–4:30PM
Sat – Sun: 8:30AM–4:30PM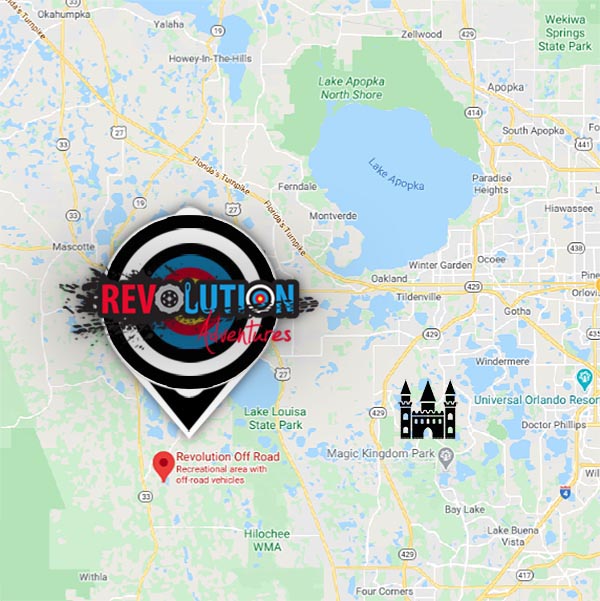 What others had to say
                                 I couldn't get my staff to stop talking about the team building event well worth the money.
Ludlows Lawn Services Davenport
We held our school Daddy, Daughter Day here and had a really memorable event we will be back for Moms and Sons soon
"Everything I hoped our wedding day would be and so much more Revolution made our special day really special." It was nerve racking planning things from the UK but we couldn't have asked for better planning and care even down to the forgotten socks!!.. Thank you SO much.
                   "Thank you for making Emery's seventh birthday party so easy for me and so much fun for him and his friends."
"We had a group of 14 people who wanted to do something active. Golf was an option, and so were the amusement parks, but I chose ATV riding. Oh! my goodness what a blast choice waiting in line for a 3 minute ride or a 2 hour action packed adventure..... no competition but why oh! why isn't there a place like this in my home town ? We will be back.
Steven Mackintosh Aylesbury UK
"Revolution Off Road customized our experience and had us riding ATVs, Dune Buggies and even provided lunch. We split into groups so that there was minimal down time waiting for equipment. For four hours we had a blast. Our team had all experience levels from never done it and afraid to ride, to own an ATV and ride extensively. Every one of us had a great time.
Without a doubt the best place on earth to host a fishing competition amazing lake, great people and scenery to long for. Superb....
For the past 3 years we have held our Florida Warrior Dash event at this property the people are kind caring and never had we had a problem. I would chose this venue over any others that we have used Property and team is amazing and the event went off without a hitch GREAT PLACE.