Group Events
We have the uniqueness & flexibility to tailor make individual group outings and celebrations. Including company retreats, dealership events, team buildings, birthday parties, scout programs, and anything else that requires a unique venue. To plan an event to fit your budget, timescale, and expectations takes time and that is why our team is here for you. Whatever the occasion, this is the one place where you get to style your event your way.
Corporate Events
Ours is a unique option for organizers to choose. It can seem complicated, but it is the best way to impress and excite your guests and clients. Please be assured we are seasoned professionals planning events from single family groups of 25 to major endurance races with 8,000 runners.
We will make this as pain free as possible to outline to your clients. If you still feel unsure then call us and we can walk you through the options. Our informed suggestion is for you not to restrict the adventures on offer. Allow your guests to select from our menu and we will plan your schedule.
If you have over 25 guests in your party, we strongly suggest that you choose a minimum of two adventures per person. This will minimize down time for the group as they rotate through the adventures. Not every moment needs to be action filled during an event. Allow a little time to enjoy the property and time for guests to discuss their adventures.
Birthday Parties
Revolution's "beast of a ride" is the centerpiece of this fun-filled adventure party suitable for guests from 5 years of age.

Packages starting at $500 for a minimum of 10 guests for the Myakka ride and Archery Tag combination.
This is a fun filled action-packed party that starts off under the canopy lakeside. The "Myakka" which seats 20 guests is a deuce and a half-converted army monster truck with 8 wheels. It tours the property allowing the riders a tree top view of the countryside and lake. Along the way your host will point out wildlife habitats and native animals. On board you can join in the scavenger hunt to spot the hidden animals and maybe the "Myakka" man. Plenty of prizes will be available for the winners!
On the return journey you will make a stop at the Archery Tag course for a 45-minute game. This experience is suitable for the entire family and all safety equipment is provided. Of course, it does not have to be just for birthdays, we can adapt the program for juniors and adults alike.
Scouts Programs
Archery is an ancient hunting skill and it continues today as an Olympic sport for groups of all ages. At Revolution we have perfected the opportunity to learn how to draw a bow correctly as well as have some great fun doing it.
Your group of cadets, scouts, or pirates can earn their badge of honor whilst learning how to shoot straight at the target with one of our level 2 Target Archery coaches. Built into this informative disciplined training session, there are plenty of action-packed moments too.
Once you learn the etiquette of the range from the coach and how to draw the bow to reach the target without effort, then you are ready to shoot for the target and aim for the bullseye.
After the successful completion of the course we will award each scout a certificate of completion and the opportunity to purchase an exclusive Archery Fun Badge!
Then, for those teams who wish to, it is on to the next level of fun with a game or two of "Archery Tag". A dodgeball style game played in teams.
For junior archers who may find it difficult to hit a bullseye with a traditional arrow, we have arrows with Velcro tips on them and a target that will allow those tips to stay put on the target. This ensures that even the youngest and novice cadet will enjoy the thrill of playing and the success of hitting the target.
Off-Property Events
Although we have plenty to offer on our property for your group, we now have the option to bring some fun to you with our Archery Tag Adventure!
Archery Tag is our most popular adventure for team building events.  It is a safe team sport that combines elements of dodgeball or other combat-type games with the timeless skills of archery. Players take aim at each other with covered arrows to score points or eliminate opposing team members. Each team needs a minimum of 3 players and maximum of 12. We can arrange knock out competitions and individual challenges. This adventure can be set up at our property or we can bring it directly to you with the following conditions*:
Minimum 1.5-hour session
Minimum of 20 guests, Maximum 60 guests per 1.5-hour session
Travel opportunities are within a 35-mile radius of Revolution Property
Area of play must be a minimum of 80'x40'
All equipment included
Trained referees included
The price for off property adventures starts at $1,000
Visit Us
About Revolution Adventures
We are a unique off-road adventure park within easy reach of the major hotels and theme parks. Our aim is to offer the best value for money in real time entertainment. Our mission is to provide the best quality guest service which results in a unique adventures that leaves each guest exhilarated and with memories to share.
"We have SO much more to offer than just off-road adventures, so we decided to change our name from Revolution Off Road to Revolution Adventures, to better reflect that we have oodles of adventures on offer."
Contact Info:
Phone: (352) 400-1322
Email: Reservations@revolutionoffroad.com
Address:
4000 State Road 33
Clermont, Florida 34714
Hours By Reservation
Mon – Fri: 8:30AM–4:30PM
Sat – Sun: 8:30AM–4:30PM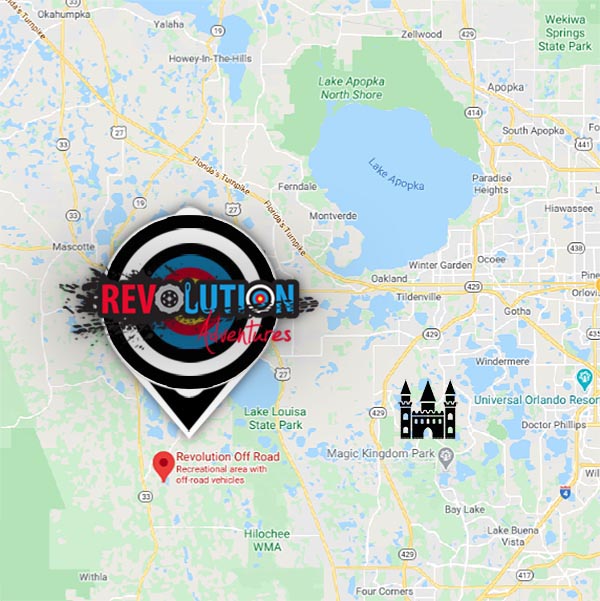 What others had to say
                                 I couldn't get my staff to stop talking about the team building event well worth the money.
Ludlows Lawn Services Davenport
We held our school Daddy, Daughter Day here and had a really memorable event we will be back for Moms and Sons soon
"Everything I hoped our wedding day would be and so much more Revolution made our special day really special." It was nerve racking planning things from the UK but we couldn't have asked for better planning and care even down to the forgotten socks!!.. Thank you SO much.
                   "Thank you for making Emery's seventh birthday party so easy for me and so much fun for him and his friends."
"We had a group of 14 people who wanted to do something active. Golf was an option, and so were the amusement parks, but I chose ATV riding. Oh! my goodness what a blast choice waiting in line for a 3 minute ride or a 2 hour action packed adventure..... no competition but why oh! why isn't there a place like this in my home town ? We will be back.
Steven Mackintosh Aylesbury UK
"Revolution Off Road customized our experience and had us riding ATVs, Dune Buggies and even provided lunch. We split into groups so that there was minimal down time waiting for equipment. For four hours we had a blast. Our team had all experience levels from never done it and afraid to ride, to own an ATV and ride extensively. Every one of us had a great time.
Without a doubt the best place on earth to host a fishing competition amazing lake, great people and scenery to long for. Superb....
For the past 3 years we have held our Florida Warrior Dash event at this property the people are kind caring and never had we had a problem. I would chose this venue over any others that we have used Property and team is amazing and the event went off without a hitch GREAT PLACE.