Be Prepared To Get Dirty!
ATV
Feel the rush as your heart beats faster while exploring our acres of trails. No experience is necessary to enjoy these natural trails as training is provided before you set off.
Mother Nature plays her part by changing the terrain with the seasons, from dry and dusty to water-soaked grass areas and muddy puddles. Whatever the season of your visit, you should "be prepared to get dirty, maybe very dirty!"
Mucky Duck
There is plenty to smile about as you drive our unique amphibious 8-wheel vehicle named the "Mucky Duck". This versatile machine can cross the open trails with ease before it splashes down into the water.
You may even get to see some of our local wildlife along the way. This is a unique and totally thrilling adventure that cannot be found anywhere else in Central Florida.
An experience suitable for all age groups and a must do for all adventure seekers.
Buggy
Sometimes you just want to have some off-road fun with a passenger beside you. Well this side by side that we have nicknamed "ATV+", uses the same trails as the ATV's, but instead of riding tandem you are sitting side by side.
 Currently we are running the Can AM Maverick buggy series.
Sea Doo
Cool off on our private lake with our Sea Doo's.
Our Jet Skis of choice are BMP Sea Doo's.
Our 65 acre privately owned lake is crystal clear and waiting for you.
Surf & Turf
Is a unique way to enjoy both our land trails and then
cool off on our privately owned lake.
You do not have to take part in the Surf and Turf option,
you can just ride the jet skis if you wish.
Our Jet Skis of choice are BMP Sea Doo's.
Our 65 acre privately owned lake is crystal clear and waiting for you.
Past Guests Photo Gallery
Our philosophy is, the safer you drive the more fun you will have on your ride.
We offer real time adventure in a safe and secure environment. We have always socially distanced and have always practiced frequent cleaning and sanitizing, now we are talking about it. Have fun Stay Safe and "get dirty"
Every person visiting the property is required to sign a waiver release form whether taking part in an adventure or not. It is a legal document and should be read carefully before you sign. Our full Terms and Conditions are available here: Terms & Conditions
The method of payment that you used to make your reservation, whether voucher or credit card, must be presented on arrival. Please note we do not accept digital copies of credit cards or I.D.'s. The credit card used for purchase and the person on the card MUST be present.
Gratuity is not included and is acceptable at your discretion. We respectfully suggest 15% per person.
Visit Us
About Revolution Adventures
We are a unique off-road adventure park within easy reach of the major hotels and theme parks. Our aim is to offer the best value for money in real time entertainment. Our mission is to provide the best quality guest service which results in a unique experience that leaves each guest exhilarated and with memories to share.
"We have SO much more to offer than just off-road experiences, so we decided to change our name from Revolution Off Road to Revolution Adventures, to better reflect that we have oodles of adventures on offer."
Contact Info:
Phone: (352) 400-1322
Email: Reservations@revolutionoffroad.com
Address:
4000 State Road 33
Clermont, Florida 34714
Hours By Reservation
Mon – Fri: 8:30AM–4:30PM
Sat – Sun: 8:30AM–4:30PM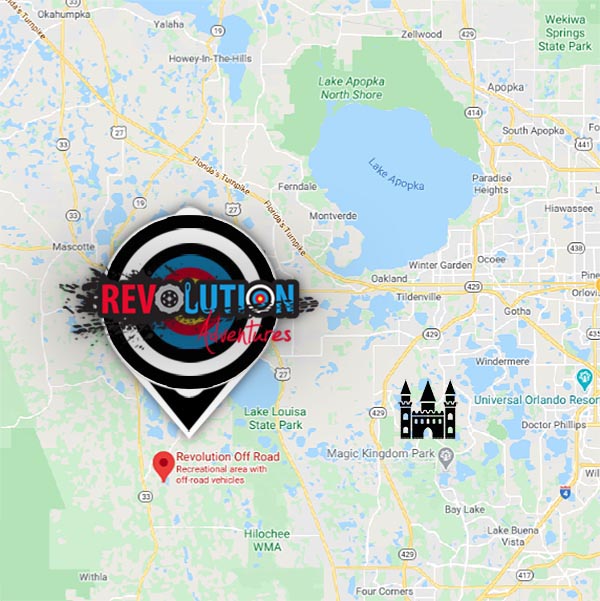 What others had to say
                                 I couldn't get my staff to stop talking about the team building event well worth the money.
Ludlows Lawn Services Davenport
We held our school Daddy, Daughter Day here and had a really memorable event we will be back for Moms and Sons soon
"Everything I hoped our wedding day would be and so much more Revolution made our special day really special." It was nerve racking planning things from the UK but we couldn't have asked for better planning and care even down to the forgotten socks!!.. Thank you SO much.
                   "Thank you for making Emery's seventh birthday party so easy for me and so much fun for him and his friends."
"We had a group of 14 people who wanted to do something active. Golf was an option, and so were the amusement parks, but I chose ATV riding. Oh! my goodness what a blast choice waiting in line for a 3 minute ride or a 2 hour action packed adventure..... no competition but why oh! why isn't there a place like this in my home town ? We will be back.
Steven Mackintosh Aylesbury UK
"Revolution Off Road customized our experience and had us riding ATVs, Dune Buggies and even provided lunch. We split into groups so that there was minimal down time waiting for equipment. For four hours we had a blast. Our team had all experience levels from never done it and afraid to ride, to own an ATV and ride extensively. Every one of us had a great time.
Without a doubt the best place on earth to host a fishing competition amazing lake, great people and scenery to long for. Superb....
For the past 3 years we have held our Florida Warrior Dash event at this property the people are kind caring and never had we had a problem. I would chose this venue over any others that we have used Property and team is amazing and the event went off without a hitch GREAT PLACE.