Be Prepared To Get Dirty!
Fishing Adventures
TROPHY BASS FISHING
The Revolution lake is an angler's dream location! Whether you are a first timer or a seasoned fisherman, it has plenty to offer. It is privately owned with no public access available. This lake was formed over 30 years ago from mineral and sand mining providing a clear, clean water base with parts going as deep as 40 feet. Regular stocking and water management makes this an award-winning fishing lake even if it does not have a name. Plenty of largemouth bass thrive in this under-fished, over-stocked lake giving even the occasional fisherman the chance to hook a big fish.
Clay Shooting
As the targets fly across the sky it looks impossible to shoot them down, but after some practice and some good coaching from our team, it turns out to be possible!
Clay shooting is a recreational and competitive activity where the shooters fire shot guns to break clay targets (clay pigeons) which are mechanically thrown into the air. After a round with us you will know the correct way to handle a shot gun and gain a new skill.
Target Archery
Target Archery is an amazingly addictive sport that continues to grow rapidly. Suitable for ages 7 years and upwards, it is perfect for a family adventure or even a team building event.
Revolution has several level 2 coaches on site who will not only ensure your arrows reach the targets but can offer tips on stance and posture. We use compound bows which are typically used to reduce the amount of force required to hold the string at full draw making it easier for younger family members to practice easily.
Archery Tag
Archery Tag is a family-friendly yet competitive game like dodge ball. A group of no less than 6 people divide into two teams and effectively tag the opposition to collect their bows by firing their own arrows at them.
Players work out their strategy as they hide behind barrels and covers. Do not worry as the arrows are foam tipped and lightweight, they will not hurt if they hit you. Referees ensure that there is no foul play and oversee the score. Sessions are played out in games of three and usually last 1 hour in total.
Past Guests Photo Gallery
Bass Fishing
---
HOME TRUTHS –BASS FISHING
Everything you need to catch a largemouth bass on this lake is patience and equipment. We will provide the guide boat, tackle, and license for your 4-hour fishing excursion. The patience is up to you!
Our Bass Tracker boat can seat up to 3 guests comfortably with our seasoned guide who will assist in any way he can. Between taking you to the best fishing areas on our 65-acre lake or enjoying a more laid-back approach involving swapping fishing stories, our guides are there for you.
We do operate CPR, Catch-Photograph-Release, so we do not allow any fish to be taken away. However, we will take as many photographs as we can when you land your fish.
You must be able to get on an off the boat by yourself and sit unaided to participate in this activity.
Clay Shooting
---
HOME TRUTHS –CLAY SHOOTING
This experience includes all the equipment you need, ear defenders, glasses, shells, targets, and a shot gun. You should be in good physical health to take part in this activity. The firearm of choice for the experience is a high-quality Tri-Star double barreled over and under shot gun with a 26-inch barrel.
You must be a minimum of 16 years of age with proof of I.D. to shoot a gun and a parent or guardian must be present.
TARGET ARCHERY AND ARCHERY TAG
---
HOME TRUTHS – TARGET ARCHERY AND ARCHERY TAG
All equipment is provided for both archery experiences. Comfortable clothing should be worn as well as enclosed shoes since this will be played out in a field setting.
It is inadvisable for guests with neck or back issues to take part in this activity.
A fully trained coach will explain the rules of each experience and will keep score as you make your mark.
Our philosophy is the safer you drive the more fun you will have on your ride. "be prepared to get dirty maybe very dirty"
We offer real time adventure in a safe and secure environment. We have always socially distanced and have always practiced frequent cleaning and sanitizing, now we are talking about it. Have fun Stay Safe and "get dirty"
Every person visiting the property is required to sign a waiver release form whether taking part in the adventures or not. It is a legal document and should be read carefully before you sign. Our Terms and Conditions are available here: Terms & Conditions
The method of payment that you used to make your reservation, whether voucher or credit card, must be presented on arrival. Please note we do not accept digital copies of credit cards or I.D.'s. The credit card used for purchase and the person on the card MUST be present.
Gratuity is not included and is acceptable at your discretion. We respectfully suggest 15% per person.
Visit Us
About Revolution Adventures
We are a unique off-road adventure park within easy reach of the major hotels and theme parks. Our aim is to offer the best value for money in real time entertainment. Our mission is to provide the best quality guest service which results in a unique experience that leaves each guest exhilarated and with memories to share.
"We have SO much more to offer than just off-road experiences, so we decided to change our name from Revolution Off Road to Revolution Adventures, to better reflect that we have oodles of adventures on offer."
Contact Info:
Phone: (352) 400-1322
Email: Reservations@revolutionoffroad.com
Address:
4000 State Road 33
Clermont, Florida 34714
Hours By Reservation
Mon – Fri: 8:30AM–4:30PM
Sat – Sun: 8:30AM–4:30PM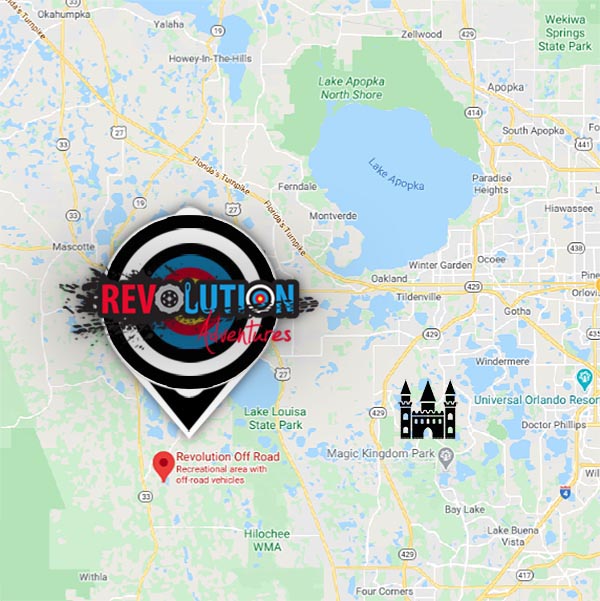 What others had to say
                                 I couldn't get my staff to stop talking about the team building event well worth the money.
Ludlows Lawn Services Davenport
We held our school Daddy, Daughter Day here and had a really memorable event we will be back for Moms and Sons soon
"Everything I hoped our wedding day would be and so much more Revolution made our special day really special." It was nerve racking planning things from the UK but we couldn't have asked for better planning and care even down to the forgotten socks!!.. Thank you SO much.
                   "Thank you for making Emery's seventh birthday party so easy for me and so much fun for him and his friends."
"We had a group of 14 people who wanted to do something active. Golf was an option, and so were the amusement parks, but I chose ATV riding. Oh! my goodness what a blast choice waiting in line for a 3 minute ride or a 2 hour action packed adventure..... no competition but why oh! why isn't there a place like this in my home town ? We will be back.
Steven Mackintosh Aylesbury UK
"Revolution Off Road customized our experience and had us riding ATVs, Dune Buggies and even provided lunch. We split into groups so that there was minimal down time waiting for equipment. For four hours we had a blast. Our team had all experience levels from never done it and afraid to ride, to own an ATV and ride extensively. Every one of us had a great time.
Without a doubt the best place on earth to host a fishing competition amazing lake, great people and scenery to long for. Superb....
For the past 3 years we have held our Florida Warrior Dash event at this property the people are kind caring and never had we had a problem. I would chose this venue over any others that we have used Property and team is amazing and the event went off without a hitch GREAT PLACE.