Be Prepared To Get Dirty!
MOTORIZED ADVENTURES
Central Florida's number 1 off-road attraction
set in 230 acres of glorious countryside provides a chance to enjoy real nature up close. Giving you an opportunity to try your hand at our self-drive guided adventures.
ATVS, Quads, 4-wheelers, and Buggies, call them what you will, they are always a great deal of fun. But don't forget about the UNIQUE "Mucky Duck," an 8-wheeled amphibious vehicle that can be driven over land and through the lakes and ponds.
NON - MOTORIZED ADVENTURES
If you have always wanted to try an off-road activity without the wheels, then look no further than this location. We provide a safe and secure environment to have a go under the guidance of our topflight coaches.
Adventures include Skeet Shooting, Target Archery, Archery Tag, Trophy Bass Fishing, and SO much more. This is the place where families from ages 7-70 can enjoy making lifelong memories together.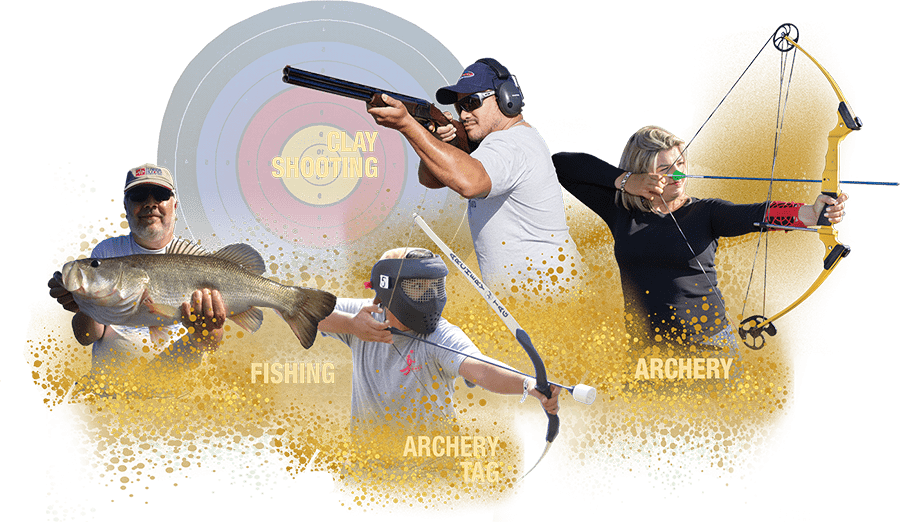 REVOLUTION ADVENTURES
With 230 acres of trails and an array of sporting adventures on offer, there is plenty to challenge both novice and seasoned adventurers. Guests will be treated as friends returning often to what new adventures we have added to our portfolio.
Safety is always our number one priority and is practiced in everything we do. We are not an extreme off-road park but still take the health and welfare of our guests seriously. Once through the safety briefing and training courses, our guides will lead you around the trails at a comfortable speed for your party.
Visit Us
About Revolution Adventures
We are a unique off-road adventure park within easy reach of the major hotels and theme parks. Our aim is to offer the best value for money in real time entertainment. Our mission is to provide the best quality guest service which results in a unique experience that leaves each guest exhilarated and with memories to share.
"We have SO much more to offer than just off-road experiences, so we decided to change our name from Revolution Off Road to Revolution Adventures, to better reflect that we have oodles of adventures on offer."
Contact Info:
Phone: (352) 400-1322
Email: Reservations@revolutionoffroad.com
Address:
4000 State Road 33
Clermont, Florida 34714
Hours By Reservation
Mon – Fri: 8:30AM–4:30PM
Sat – Sun: 8:30AM–4:30PM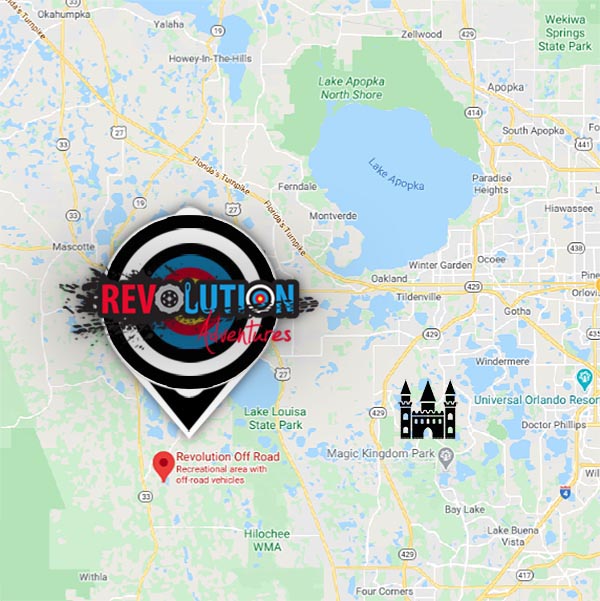 What others had to say
                                 I couldn't get my staff to stop talking about the team building event well worth the money.
Ludlows Lawn Services Davenport
We held our school Daddy, Daughter Day here and had a really memorable event we will be back for Moms and Sons soon
"Everything I hoped our wedding day would be and so much more Revolution made our special day really special." It was nerve racking planning things from the UK but we couldn't have asked for better planning and care even down to the forgotten socks!!.. Thank you SO much.
                   "Thank you for making Emery's seventh birthday party so easy for me and so much fun for him and his friends."
"We had a group of 14 people who wanted to do something active. Golf was an option, and so were the amusement parks, but I chose ATV riding. Oh! my goodness what a blast choice waiting in line for a 3 minute ride or a 2 hour action packed adventure..... no competition but why oh! why isn't there a place like this in my home town ? We will be back.
Steven Mackintosh Aylesbury UK
"Revolution Off Road customized our experience and had us riding ATVs, Dune Buggies and even provided lunch. We split into groups so that there was minimal down time waiting for equipment. For four hours we had a blast. Our team had all experience levels from never done it and afraid to ride, to own an ATV and ride extensively. Every one of us had a great time.
Without a doubt the best place on earth to host a fishing competition amazing lake, great people and scenery to long for. Superb....
For the past 3 years we have held our Florida Warrior Dash event at this property the people are kind caring and never had we had a problem. I would chose this venue over any others that we have used Property and team is amazing and the event went off without a hitch GREAT PLACE.